Orchard to Bottle Cidery Tour &
Tasting Experience
A Look Behind the Bottle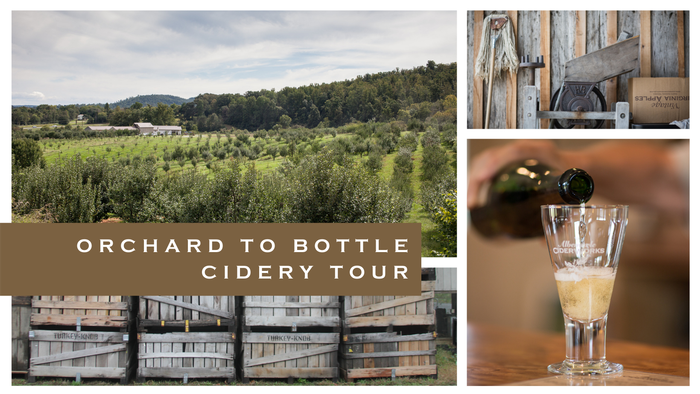 We are excited to introduce our new Orchard to Bottle Cidery Tour & Tasting Experience. Guests will explore the orchard and take a guided tour of the cider production facility with one of our in-house experts. Discover the history of the humble apple in America and learn the secret to creating a well-crafted, Virginia cider.
Your Experience
Explore: Parties of up to 8 are welcome to reserve this exclusive tasting experience. Guests will be greeted by one of our in-house cider experts. Sip on a glass of cider while you explore the expansive orchards and learn about the history of Albemarle CiderWork's tradition of pomology and cidermaking.
Discover: Join one of our cidermaking experts in the heart of our production facility. You will learn how hard cider is created and the techniques used to create our elevated style. Taste our freshest cider directly from the tank or experience the complexity of our reserve vintages.
Pop a Bottle: Your experience concludes with a personalized tasting at one of our tasting bars. Expand your palate as you try a full lineup of ciders from past vintages to our most recent release.
Your Reservation Includes:
Glass of cider upon arrival
Walking tour of the orchard & grounds
Guided tour of our production facility and Q & A with our cidermaker (close-toed shoes are required)
Cider tastings including a tank tasting* OR exclusive tasting of reserve vintages, tasting of new releases
*Subject to availability
Important Notes
Reservations: This experience is by reservation only and is only available to book Fridays and Sundays. Reservations must be made at least 48 hours in advance. Available tour dates will be updated monthly. InCider Club members receive first access to reservations. The walking tour will last 40 minutes, and the tasting experience will last approximately 20 minutes.
Group Size: Our tasting bars accommodate a group minimum of 4 with a maximum of 8. Groups of 1-3 may be paired with another group(s) to meet the minimum.
Price: The price per guest is $40, plus tax. Payment is required for reservation. Gratuity may be added at checkout if desired. Children 15 years of age and under are free and adult supervision is required at all times.
Cancellation Policy: Any reservation canceled within 48 hours of the reservation time will receive a 50% refund. Cancellations made before the 48-hour deadline will receive a full refund. Cancellations can be submitted by emailing tastingroom@albemarleciderworks.com.
Please Call 434-297-2326 to make your reservation.