Cider Smackdown: Attack of the Crabapple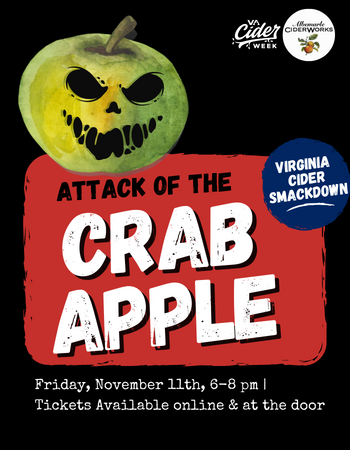 The Cider Smackdown just keeps getting bigger and badder! Virginia cideries go head-to-head in this annual competition to showcase our state's best ciders. This year's theme: Crabapples. Join us for a night of tasting, snacks, and a chance to chat with cider enthusiasts across Virginia.


We're keeping things casual with a cocktail hour-style tasting session beginning at 6 pm which will include mini-workshops led by representatives from participating cideries. Don't miss our grazing table as you blind taste through the best Crab ciders VA has to offer. Submit your vote and stick around for the winner's announcement at the evening's end!


Cocktail hour begins at 6pm on Friday, November 11th and will include self-guided tastings, mini-workshops, and light bites.


Winner will be announced promptly at 8pm.


Stay tuned for participating cidery announcements coming soon!


Tickets include:


Light bites
Unlimited blind tastings of all ciders
Meet & Greet with Virginia cider professionals
Cider education mini-workshops
Product Reviews